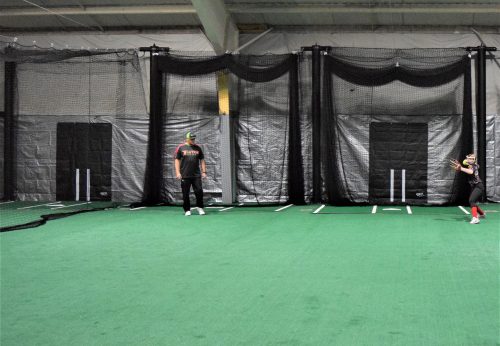 We help baseball and softball players develop solid fundamentals and improvements that translate to immediate success on the field.
Baseball/Fast-pitch Softball is a unique sport that requires both defensive and offensive skills. These skills must be learned, and in the right way because practicing poor skills creates and reinforces bad habits.
Good skill development is learned and reinforced through instruction and, for cold weather states like Indiana, access to indoor facilities.
Besides physical development, we focus on mental strength, mindset and fun. Every player deserves respect and we want to emphasize a love of the game.
We look forward to seeing your team.
Batter's Box is the premier indoor baseball and softball training facility in the area – dedicated to training players of all ages and abilities. Our state of the art, year round, indoor facility has over 20,000 square feet of training area, 18 multi-use indoor batting and pitching tunnels.
To provide and all-inclusive immersive facility for baseball and softball training and coaching.

"The best athlete is made during the off-season."
Being gracious in winning and losing is a corner stone of Sportsmanship.
Text
317-258-2483
to schedule a tunnel!